Pack Paddling Trip – Swan Creek Aberdeen Proving Ground
August 10, 2019 @ 11:00 am

-

2:00 pm

EDT
Join us on Saturday, August 10th at 3pm for a Pack Paddling Trip up Swan Creek on APG.  We will meet at the boat launch before Shore Park adjacent to the APG campground.  You are welcome to bring your own boats or you can rent them from APG MWR.  Note that scouts/siblings will need to be in a boat with their adult partner for safety unless they demonstrate passing a swim test prior conducted at a BSA summer camp or with our pack leadership.  All adults and youth participants must wear a life jacket during this paddle.  We will need to know if you plan to rent so that we can reserve the boats ahead of time.   Life jackets are included with any rental.  Please use the sign-up to indicate if you plan to attend this event and if you will need to rent one or more boats and which style.  There is a line to sign-up for attending with your own boats, needing to rent a canoe, needing to rent a single kayak, or needing to rent a tandem (double) kayak.  If you need multiple boats to meet your family's needs, then please sign up on each line item that is applicable.   We will be renting from APG MWR with the following prices per their website  EquipRental_List2018-2:
Canoe $20

Kayak, Single  $20
Kayak, Tandem $25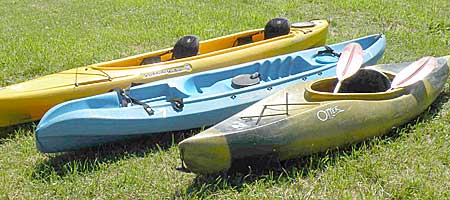 Kayak/ Canoe Drop off Fee $5
Once we have a better idea of how many people plan to attend, we can discuss the logistics for getting the boats and if the Pack will be able to subsidize the cost of rentals at all.
Please sign-up here: